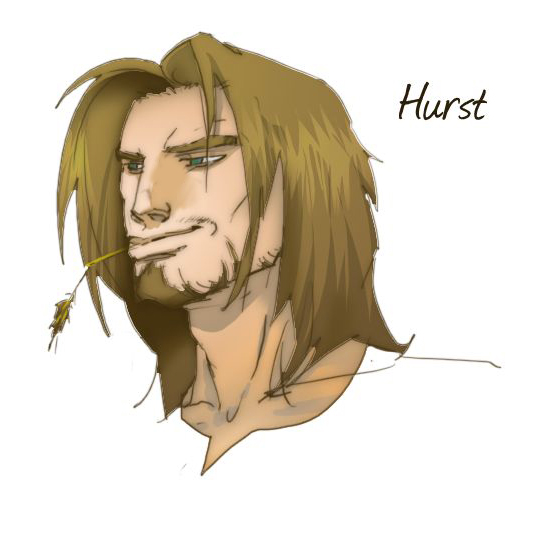 Name:
Hurst Silvera
Age:
26
Gender:
Male
Specie:
Human
Magic type:
Gate Keeper (will insert desc. Soon) but his skill is so poor, we ought to leave the line blank.
Weapons of choice:
Though absolutely useless when it comes to magic, his skill with all types of swords is what kept him alive all these warring years, and earned him respect among his fellow comrades, the captains and officers… however, his lack of co-operation and responsibility is what prevents him from promotion, though this is not a factor that seems to upset him much.
Role:
Apart from getting drunk and flirting with anything that looks remotely like a woman? Not much really, yet fights for the Alliance.
Description:
Look at the image provided. Need I say more? Character? Just as scruffy as the picture, though truth should be known: the man is more loyal than a Labrador, has a heart as golden as a good mug of beer. Minus the foam of course… then something would be terribly wrong with it.
History:
Hurst was born in the slums of (eventually, will think of a place), and into a family of nine siblings and a loving mother and father(s), yet not quite as sober as they are 'loving'. Despite their overly exaggerated fondness of drink and song, the family managed to raise all nine of their children, putting them all through the first three grades of school (which was enough education, thank you very much!) and teaching them the art of theft and all wonderful skills one needed in the slums to survive as long enough to reach 40.
Wanting to live a little longer than that, Hurst (then 16) (and other 5 of his brothers/sisters) left the slums in search of new possibilities under the tearful, proud gaze and blessings of their mother and (current) father.
SOMEHOW… Hurst thought he might live longer in the army. So far, he's still in one piece, and kicking. He might be right.
(Feel free to contribute to Hurst's bio, after all he is a shared character

)
Admin




Number of posts

: 237


Registration date :

2007-11-22




---
Permissions in this forum:
You
cannot
reply to topics in this forum